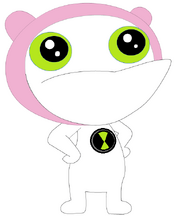 Benmeap (Or (Name)meap) is a unknown species from a unknown planet. You can use it without premission.
Appearance
Edit
Benmeap looks like Meap but with a Omnitrix symbol.
Superstrength, Super Speed, and Green Lasers. Benmeap can talk because of the Omnitrix.
Weaknesses
Edit
He's so cute, it will distract girls.