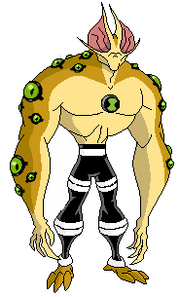 Eye Guy is a playable alien.
Eye Guy can fire Huge Amount of Energy
From his eyes, Eye Guy can fire numerous green energy beams. The eyes can be merged to create different effects, such as three on his shoulder which can form a freezing beam. By merging every eye into the large eye in his chest, he can fire his strongest energy blast. He can also climb walls.