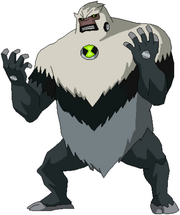 Shocksquatch is a playable alien.
Abilities
Edit
He has the powers of electrokinesis, which means he has the power of electricity. Not much else about his powers are known, but he is rumored to have have super stregth, due to his yeti-like appearence.
Ad blocker interference detected!
Wikia is a free-to-use site that makes money from advertising. We have a modified experience for viewers using ad blockers

Wikia is not accessible if you've made further modifications. Remove the custom ad blocker rule(s) and the page will load as expected.