Yinyang is one of Omi's aliens. He originally is from Simien 10.
Yin's powers
Edit
Controlling fire
Very gooey
Made of lava
Super strength
Combining with Yang to create Yinyang
Yin's Weaknesses
Edit
Yang's powers
Edit
Controlling ice
Very hard
Made of ice
Super intelligence
Super speed
Combining with Yin to create Yinyang
Yang's Weaknesses
Edit
Yinyang's powers
Edit
Controlling fire
Controlling ice
Super Speed
Super strength
Super intelligence
Half hard
Half gooey
Yinyang's weaknesses
Edit
Water for one half
Fire for the other half
Species and planet
Edit
Species:Opueston
Planet:Kagetohi (actually a moon)
Appearence
Edit
Yin looks like a blob of lava with no legs (but still has arms)
Yang looks like a man made of blocks of ice
Yinyang has half of Yin's body just with a leg and is other half is Yang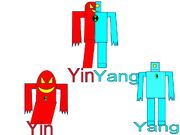 Ad blocker interference detected!
Wikia is a free-to-use site that makes money from advertising. We have a modified experience for viewers using ad blockers

Wikia is not accessible if you've made further modifications. Remove the custom ad blocker rule(s) and the page will load as expected.